St. Augustine State Parks
State Parks Near St. Augustine That You Should Visit
St. Augustine is home to several fascinating state parks, and there are many more outside the city just a short drive away. The state parks near St. Augustine host a wonderfully diverse combination of enchanting wilderness areas and historic sites for you to explore. From pristine white sandy beaches to robust historic structures, there's virtually no end of fun things to see and do at St. Augustine's state parks.
Check out nearby St. Augustine State Parks below, and head over to our Visitors Guide for more helpful trip-planning information. When you're ready, head over to our catalog of vacation rentals to get started on your St. Augustine trip!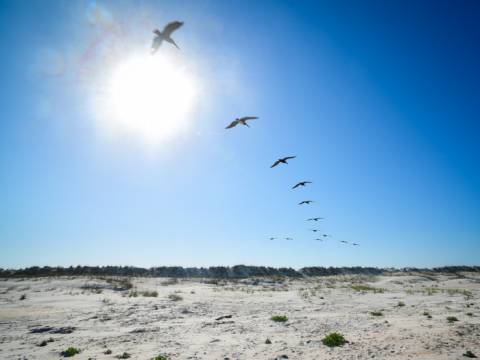 Anastasia State Park - St. Augustine Beach, FL
Over 1,600 acres of unspoiled beaches, tidal marshes, maritime hammocks and sand dunes await you at Anastasia State Park. From the beach or by kayak you can view abundant wading birds as they hunt along Salt Run. You can also join ranger-led bike tours on the beach, or hike the gorgeous Ancient Dunes Trail to explore each unique habitat of the park. 
Faver-Dykes State Park - St. Augustine, FL
On the outskirts of St. Augustine lies the beautiful Faver-Dykes State Park. Faver-Dykes offers the perfect quick escape from city life for some good ol' rest and relaxation in nature. Come to this St. Augustine state park to walk along the nature trail, catch a glimpse of the more than 100 species of birds, or paddle a canoe down the relaxing Pellicer Creek.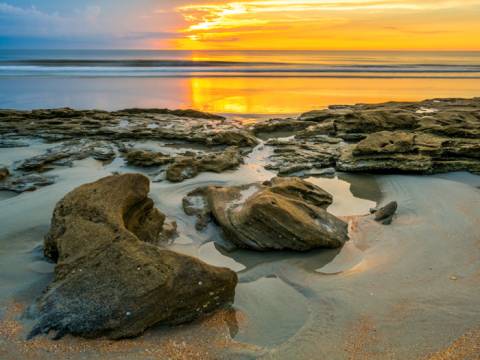 Fort Mose Historic State Park - St. Augustine, FL
Located just a few blocks north of St. Augustine city limits, Fort Mose is the historic site of one of the first legally sactioned free-slave settlements in the US. The park features a museum, an observation boardwalk, and picnic areas. Plus, on the last Sunday of each month, Fort Mose brings in historical re-enactors to depict life at the settlement hundreds of years ago. 
Washington Oaks Gardens State Park - Palm Coast, FL
Come explore magnificent gardens and tranquil rocky shoreline at Washington Oaks Gardens State Park. The formal gardens host an immense display of beautiful native and non-native plants that are a treat to walk beside. After seeing the gardens, head to the shoreline to view the parks Coquina rock features - the largest outcropping of Coquina rocks on the Atlantic ocean.